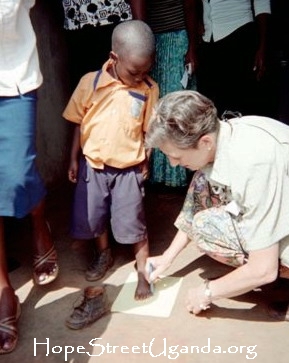 Hope Street Missions Uganda is the result of a prayer offered a number of years ago by Holly Suber which simply said, "LORD, give me a passion for something with eternal significance." As an artist, Holly had a strong sense that somehow there was going to be a connection between her art and Uganda, a country she had visited and loved.
Oddly enough, she found herself wanting to do paintings of people's shoes as a type of portrait. This leading didn't seem to make sense to her, but she knew there was something significant about it. From time to time Holly would think about the shoe idea and laugh with herself over its seeming silliness. However, while in Uganda on a mission trip with her church, God brought all the pieces together .
Holly's mission group was teaching in a small orphan school at Luwafu. The Luwafu church is unique to most of the ones they had visited in that it has a concrete floor rather than a clay or dung floor. With respect for God and the concrete floor, the children who have shoes remove them before entering. One day as Holly came around the corner to the front of the church, she saw a sight that took her breath away . . . the steps were covered with little shoes, covered in clay and bathed in the afternoon sun's golden light. As she carefully stepped between the shoes, her eyes fell on a small pair of boots. Suddenly Holly was flooded with an intense passion to paint these shoes. It was then that God revealed to her His plan as He spoke to her heart, "Holly, this is what it's all been about, this is what it's about."
The little boots belonged to a six year old boy named Ronald. After much negotiation, Holly was able to exchange Ronald's boots for a new pair. Once back in America, she knew she had to first draw Ronald's shoes before she could paint them. The first pencil drawing has become the logo for Hope Street Missions Uganda.
God answered Holly's prayer and today many people in Uganda are being helped through her Art of Caring.